Smaranda Pantea, Ph.D.
Postdoctoral researcher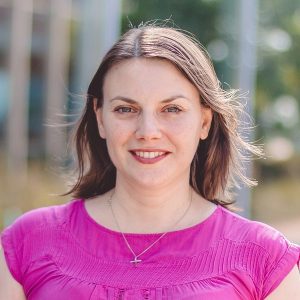 Email: smaranda.pantea@vse.cz
Office no.: RB 429
Specialisation
Digital economy
ICT sector
public policy
labour economics and applied microeconometrics
Curriculum Vitae
Smaranda Pantea is an applied economist with research interests in digital economy, ICT sector and labour markets, with a focus on the effects of public policy in these areas. Her current projects revolve around industrial policies designed to support the ICT sector, self-employment in knowledge intensive services and the effectiveness of support for SMEs. She holds a PhD in Economics from University of Nottingham. Before joining the Department of Entrepreneurship at the Prague University of Economics and Business, she held various positions at the Ministry of Public Finance in Romania, the Directorate General for Internal Market, Industry, Entrepreneurship and SMEs of the European Commission, the Joint Research Centre of the European Commission and University of Bristol.
Publication
PANTEA, Smaranda, SABADASH, Anna and BIAGI, Federico (2017)"Are ICT displacing workers in the short run? Evidence from seven European countries," Information Economics and Policy, 39(C), 36-44.
PANTEA, Smaranda and MARTENS, Bertin, (2016) "The value of internet as entertainment in five European countries", Journal of Media Economics, 29(1), 16-30.
PANTEA, Smaranda (2015) "Changes in the EU's productive structure", in EU Structural Change 2015, European Commission, Chapter 1, 17 – 47.
PANTEA, Smaranda and MARTENS, Bertin, (2014) "Has the digital divide been reversed? Evidence from five EU countries", with Martens, B., electronic International Journal of Time Use Research, 11(1), 13-42.
Working Papers
MANELICI, Isabela and PANTEA, Smaranda (2018) "Industrial Policy at Work: Evidence from Romania's Income Tax Break for Workers in IT", Working Paper.
PANTEA, Smaranda (2017) "Did minimum wage increases reduce employment? Panel data evidence from Romania", MPRA Paper No. 79863.