Members of the Department of Entrepreneurship attended prestigious training for teaching entrepreneurship in the USA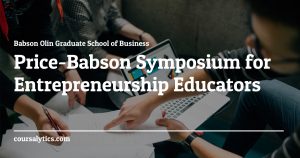 Blanka Habrmanová and Jan Mareš attended the prestigious Price-Babson Business Education Training Symposium for Entrepreneurship Educators at Babson College near Boston, Massachusetts. This school is not one of the best known in our country. However, it is one of the world leaders in business education.
As part of the weekly intensive program, members of the Department of Entrepreneurship went through key methods of teaching entrepreneurship at this school. The positive finding is that most of the procedures have been already applied in teaching secondary track Entrepreneurship, which is one of the most selected secondary track by students of the University of Economics in Prague.