Marko Orel, Ph.D.
Postdoctoral researcher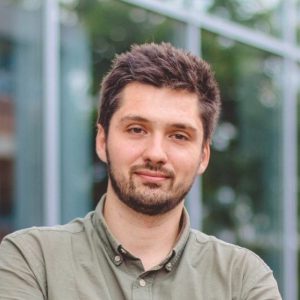 Email: marko.orel@vse.cz
Office no: RB 452
Specialisation
sharing economy
workspace design
collaborative work,
coworking
Curriculum Vitae
Marko Orel specializes in exploration of changing nature of the global workplace, development of on-site and digital collaborative communities and research of digital age that presents major new challenges to entrepreneurs. He is exploring project and operational networks of influences, community engagement moderation and its inter-relational participation. As a sociologist with a Ph.D. degree, Marko believes that task-oriented and relationship-oriented teamwork is essential to achieve effective results in collaborative networks. He co-founded Creative Centre Poligon, a collaborative orientated creative centre in Ljubljana and VRable, an open-source research entity that examines social aspects of VR. Marko has also worked with different start-ups and incubators, most recently with Budapest based MKB Fintech Incubator and its incubatee, invoicing company Space Invoices, where he held the position of CHRO. He works currently at the Department of Entrepreneurship, University of Economics, Prague.
Publications
Guna, J., Geršak, G., Humar, I., Krebl, M., Orel, M., Lu, H., & Pogačnik, M. (2019/forthcoming). Virtual Reality Sickness and Challenges Behind Different Technology and Content Settings. Mobile Networks and Applications, 1-10.
Orel, M., & Dvouletý, O. (2020). Transformative Changes and Developments of the Coworking Model: A Narrative Review. In Technological Progress, Inequality and Entrepreneurship (pp. 9-27). Springer, Cham.
Orel, M. and Kubátová, J. (2019), "Coworking as a model for conscious business", Journal of Global Responsibility, Vol. 10 No. 3, pp. 257-270
Orel, M., & Almeida, M. D. M. A. (2019/forthcoming). The ambience of collaboration in coworking environments. Journal of Corporate Real Estate.
Orel, M. (2019). Coworking environments and digital nomadism: balancing work and leisure whilst on the move. World Leisure Journal, 61(3), 215-227.
Orel, M. (2019/forthcoming). Supporting work–life balance with the use of coworking spaces. Equality, Diversity and Inclusion: An International Journal.
Dvouletý, O., & Orel, M. (2019). Entrepreneurial Activity and Its Determinants: Findings from African Developing Countries. In Sustainable Entrepreneurship (pp. 9-24). Springer, Cham.
Savanovic, A., & Orel, M. "The role of creative hubs in the freelance labour market." European Creative Hubs Network, Brussels (2018): 1-30.
Orel, M. "Daily interactions within virtual reality space". 26th International Electrotechnical and Computer Science Conference ERK 2017 (2017): 123-125.
Rus, A., & Orel, M. "Coworking: a community of work." Teorija in Praksa 52, no. 6 (2015): 1017-1038.
Orel, M. "Working in co-working spaces: The social and economic engagement of European youth." Perspectives on youth 2 (2015): 133-139.